About
Brief History of the Greek Festival
Inspired by tales from Lillian Meletedis who had attended a similar event in the US, and spearheaded by (then priest) Father Elles and community leaders (the late) Steve Panais and John Angelopoulos – plans were hatched to launch the first Greek Summer Festival in 1986.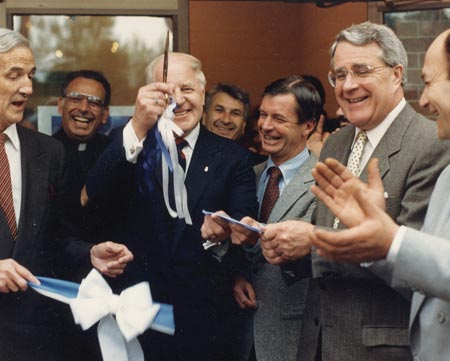 Leading up to the inaugural event our Greek community did not know what it would take to host a Greek Summer Festival. We had no idea how much food, or what food should be served, but we were convinced that we should proceed. We decided to hold the festival the second weekend of June. This time frame was chosen for two reasons. First, by choosing June it would be the first festival of the summer season. Second, this time period would guarantee that the Greek community members would still be in Halifax – and not vacationing in Greece – so that they could volunteer their services to the festival.
The first festival was beyond our expectations. The lineups! We were overwhelmed with the attendance. We thought we had prepared enough food, but we miscalculated the interest and support of the local community. By early Saturday evening our tasty Greek food tables were empty! The Greek women found a solution (as they always do!). They communicated to others that we had more mouths to feed. The telephones were on fire at midnight that Saturday night asking individuals to help prepare food for the next day. Not only did individuals prepare food in the middle of the night, but also many of our local Greek restaurants prepared baklava, pastitsio, mousaka, gemesta, galaktoboureko, and many other delicacies. Talk about a community banding together…
And what would a festival be without dancing? Beginning in 1986 the excitement among our dancers was contagious. They practiced for many hours in order to perform during the festival. Dancers ranging in age from six years old to those over 30 performed an array of Greek folk dances with such pride. In the early years, the dances performed were primarily from mainland Greece. Over the years, the dances expanded to all regions of Greece, the Greek isles and Cyprus. Modern Greek dances were also introduced in later years, typically referred to as "taverna" dances. The elaborate costumes expanded over the years as well. Presently, our dance costumes represent five different regions. Yearly our dancers fill their parents' hearts with pride and their eyes with tears.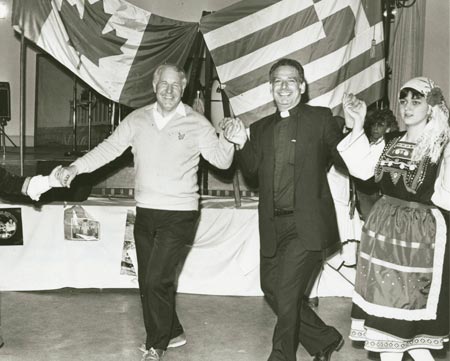 It has always been important that our festival not only showcases our culinary specialties but also our Greek cultural and historical roots. Thus, in addition to food and dance, we encourage people to visit our Exhibit room depicting Greek lifestyle, crafts, art replicas, and religious artifacts, or take a tour of our Byzantine Greek Orthodox church. Visitors will marvel at the iconography and the interior architecture of our church. Alternately attendees can take part in our Greek Wine Tasting sessions, led by local sommeliers. Or, if you're with kids in tow – families are encouraged visit our Kids Olympics area – fun for the whole family!
More than three decades later, the Greek Summer Festival is proudly spearheaded by the kids who danced their first kalamatiano in 1986. We have proudly accepted the responsibilities of maintaining the spirit of the festival and the importance of our Greek heritage.
See you in June!
Greek Summer Festival Steering Committee