Culture
Church Tours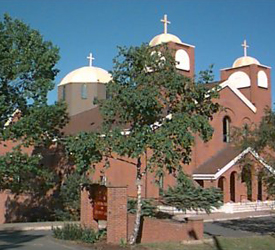 We are blessed to have such a unique and wonderful church here along the picturesque Northwest Arm. Truly, there is no other church like St. George's Greek Orthodox in Atlantic Canada! We welcome you in for your chance to see the beautiful space in full detail with a guided tour from Father Peter Maropoulos.
Join us as we explore the Byzantine theology and how it is reflected in the architecture and icons of the church. Travel through the space and explore the 3 distinctive parts and symbology of the narthex, nave, and altar.
See the intricate carvings and details on the templon, as well as the important iconography housed on the beautiful divider between the altar and the Church.
Delve into the colors, imagery and importance of the icons housed throughout the church that represent events in the life of Christ.
Tours run approximately 45 minutes, and guests can feel free to participate in a Q&A with Father Peter for more insights into the theology and the church.
Check the schedule for exact times. See you there!
Monastiraki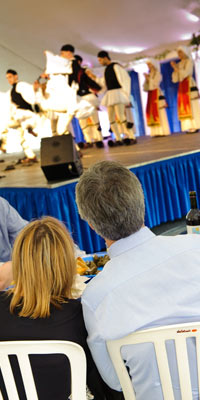 Don't forget to stop into our market where you can take a piece of Greece home with you. Whether it's Greek coffee you need in the morning, a Fisherman's cap for your day at work, or books on Greece for a bed time story, our 'Monastiraki' is filled with unique Hellenic gifts.
Language
In case you haven't picked up the language fluently from your last trip to Greek fest we have included this little starter for you.
Kefi – The Feeling that comes over one and can only be expressed by dancing, singing, and radiating with happiness!
Hello/Goodbye – Yiassou
Good Morning – Kali Mera
Good Night – Kali Nichta
How Are You – Ti Kanis?
Welcome – Kalos Oreesate
Please – Parakalo
Thank You – Efcharisto
Good Luck – Kali Teehee
One, Two, Three – Ena, Dio, Tria
Cheers! – Ya Mas
Check out our full schedule of events!